About Nautical Structures
History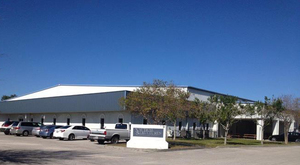 Nautical Structures was founded in 1986 with the ambition of producing the finest yachting equipment of its type, specializing in tender-handling and boarding equipment. Nautical Structures designs, engineers, manufactures , distributes, service and supports a complete product line of Marine Davits, Deck Cranes, Overhead Beam Cranes, Tender-garage Launching Systems, Transom Lifts, Gangplanks, Passerelles, Accommodation Stairs and Shell doors.
Based in Largo, Florida, in late 2011 the company moved sales, engineering and manufacturing from two locations to a single 94,000 square-foot facility renovated to its specific requirements for higher-efficiency production. Nautical Structures is sought out for its quality, reputation for exceptional service, engineering expertise, and safe handling of heavy loads and vessel access. Nautical Structures enjoys a reputation for listening to clients' needs, and responding with innovative solutions. Management fully understands the nature of the marine industry and how it fits into the fabric of this unique industry. The company has become a key supplier to some of the most notable yacht builders in the world because of an ability to work with naval architects, along with designers and builders, in developing these special boarding and tender-handling systems for their high-end ocean-going vessels. Today it is recognized as a solution provider for quality lift and boarding equipment for the luxury yacht and marine industry.
Nautical Structures follows each project from the manufacturing process all the way through the installation and commissioning on the vessel. It maintains a large library of CAD drawings and documentation of every product delivered. Because its customers' vessels travel the world, Nautical Structures has spent the over two decades building a large network of service and support companies around the world aligned with Nautical Structures in order to be able to offer superior service for products in the field, no matter where they are located.
Nautical Structures is one of very few companies in the United States that can provide Lloyds-approved SOLAS (Safety of Life at Sea) certification on its cranes. This certification is an essential requirement for any vessel over 500 gross tons for its MOB (man overboard) crane to deploy emergency lifeboats. NS Industries was recently approved under the stringent requirements of ITAR (International Traffic in Arms Regulations).
As an innovating, problem-solving design manufacturing company, Nautical Structures reserves a percentage of its capacity for unique Engineered-to-Order products outside an already established line of tender-handling and boarding equipment. The company has developed specialized hydraulic systems, unique small submarine launching and boarding equipment, and handicap mobility products to name only a few.
NS Industries also has a division known as NSI Precision (NSIP) that specializes in close tolerance sheet metal work for others. It can manufacture most anything from airport scanner cabinetry to stadium chillers.